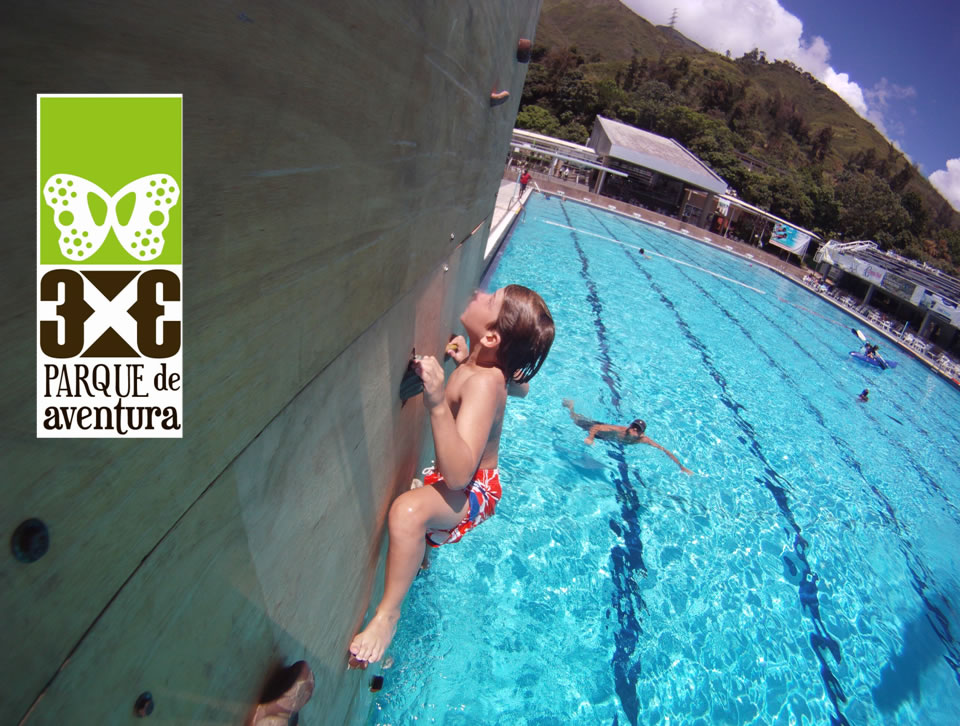 Article published in El Nacional
NICOLLE YAPUR
1 OCTOBER 2012 – 07:12 PM
Getting in the way of living through the activities you most enjoy Pavel Alcocer is a luxury that should not be taken for granted. With the help of friends runs the company climbers 3XE Park, dedicated to assembly events in any space adventure.
Muros de escalada, zip lines and suspension bridges are some of the products offered by the group Adrenalin junkies. Nevertheless, Alcocer stresses that there are several factors that differentiate them from other market. "We can offer the customer different climbing walls depending on what you need. We can mount them in a pool, four-way, with zip line from the top, in parties, corporate events and vacation plans ", describes quickly.
This ability to adapt to the needs of each event is another quality that distinguishes them from the competition, especially, the versatility of products. One of the most successful and innovative is the four-sided wall, in which children can ride without a harness or helmet that does not exceed two meters high.
"Unlike traditional walls, who they have between six and eight meters, small are closer to the floor. This allows them to forget the fear and focus on movements that put them as a game ", explains. In this structure, children can do skills, increase the difficulty of each face and award a prize to who complete the four. "It makes much more attractive", adds.
Another product suing are the walls of pool, in which children also need assurance. "We have mounted tirolina, participants up and throw. It is one of the most fun things in adventure sports ".
Staff first. Alcocer stresses that the most important strength of their venture is the team that works. "We are working on this Climbers, not people who saw a business in climbing and began to practice ". Because, in addition to entertain children can teach basic elements of sport.
"While we can play and have fun with the guys we will not be singing or painting the face, we are not to scold ", adds the climber. The team member with less experience have 8 years practicing activity.
Alcocer that scale since approximately 24 years. His fondness for the sport began at a young age, when he worked with his father, having another company dedicated to adventure vacation plans. He adds that takes 18 years paragliding, 17 kayaking and the last 3 years she dedicated to skydiving and apnea.
"Adventure sports have always been in the family", dice. Nevertheless, three years ago he decided to become independent and create your company. Remember that many of the big competitors have left the country, situation that gave way to small entrepreneurs. With the boom that exists in the market today, companies that are not keep up, points.
It also designs and builds the walls and other structures that need their services, through wood and scaffolding cross. The teams, many times, You must purchase in the country, given that CADIVI restrictions hinder the immediate replacement.
"The zip lines are the most consumed by the speed equipment that require you. While there are companies that handle a zip line with 2 -2 harnesses and equipment 2 helmets-, we have a stock of 15 equipment, allowing us to launch 300 people in 4 hours ", indicates.
further, constant investment allows you to create new structures that optimize the number of participants by attraction and allow greater use of the park in contracted hours.
Services. 3XE Park offers three types of walls: traditional, from 4 faces and pool. Prices range from 2.700 Y 3.000 bolivars for a minimum of 4 hour rental.
They also install three types of zip lines -more 50 meters, less than 50 meters and pool- with a price range that goes from 2.500 a 3.500 VEB, equally by 4 hours. Other cheaper services are the suspension bridges, recall, lift and pendulum.
The most striking innovation of the company is the portable canopy module, a structure, through a system of cross, It allows children to cross four bridges and incorporate other elements, as climbing walls and zip lines to complete a journey of adventure. "We are the only on the market that offers the service", says Alcocer.
New projects
Parque 3XE, in line with the ambitions of Pavel Alcocer, your Creator, It is also working to kayak guide training and creating plans that include extreme sports in the development of the tourist poles, following the model of Costa Rica.
"We have introduced projects in Anzoategui, Miranda, Yaracuy and Vargas. We are waiting", indicates. His goal is that each beach there kayak rental companies, trained to take tourists to make trips instructors.
Alcocer also leads a project that will, The next year, a 200 paragliders to launch the summit of Kilimanjaro. It considers that this event can give rise to relax rules banning national parks for extreme sports and boost tourism.